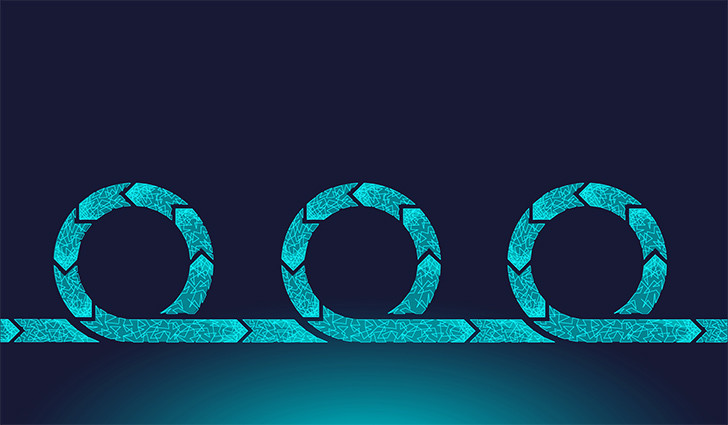 We live in a dynamically changing world where technological solutions are also dynamically developing. In this case, you cannot choose an approach to process management and software development other than Agile. When we need a well-designed and created website, an advanced online platform, an extensive company management tool (e.g. a recruitment system) - it is worth using the services of an IT company that works in this methodology on a daily basis.
What is the Agile approach?
Agile approach is a flexible method of project management - team work and coordination in cooperation with the client. Agile does not close the process within a rigid framework - it is intuitive and is based on key steps in an iterative loop, which you will learn more about later. It allows to optimally and as effectively as possible meet the needs of both sides - the team responsible for the project and the client.
By the way, we wrote about the basics of running it projects in our first e-book.
What is important in the Agile method?
1. Business goals
Customer satisfaction is the highest priority. IT companies tend to focus on purely technical and functional issues, while a reliable IT partner should focus primarily on achieving the client's business goals and only then provide IT services of the highest quality.
2. Flexibility
Readiness to change requirements. Readiness to change is inevitable in product development and allows the customer to obtain the appropriate level of competitiveness.
Flexibility also in settlements. Projects can be settled after their completion, as well as with each completed stage. It is worth emphasizing that flexibility in settling the maintenance of websites is also very important.
3. Rigid prioritization
According to the Agile methodology, tasks in the project can have 4 levels of priority: critical, high, medium and low.
4. Code quality and security
Have you encountered a situation where you did not have access to the code written exclusively for you? Or maybe this code was not suitable for development and had to be rewritten? By using the services of a reliable software house, you do not have to worry about the quality of the code, its development possibilities or even access to it.
You also don't have to worry about security or performance issues.
We usually don't think about it at the beginning of the project, but if the programming work is done at the right level, we won't have to think about it again.

Working software is the primary measure of progress.
5. Supplier stability
For every business, the stability of the supplier is also very important, as it will not have a large turnover of employees, will respond quickly and efficiently to requests for amendments in older projects, will ensure high quality at all times.
Consulting is also an important aspect - for the software house to advise what solutions are best for the client, not only the most expensive.
6. Maintenance
The presence of the software house is extremely important, from the stage of business arrangements to the release of a working solution.
The very definition of a project says it must end.
At the same time, IT solutions will live on after publication, so we should view it as a process. Let us also not forget that after implementation, we have a maintenance and development phase. It is worth paying attention to this from the very beginning.
7. Agile Leadership
Good leaders focus on specific results and goals, creating a shared vision to be pursued with the team.
8. Trust
A partner who not only "delivers", but also anticipates risks and problems and is able to solve them before they occur - this is the kind of partner that customers will appreciate very much. As a result, it will result in building good and lasting relationships that will directly translate into the evaluation of their work in the corporate structures.
The work of employees on the client's side, e.g. in a corporation, is usually very dynamic, stressful and demanding. Therefore, it is worth having a partner you can trust and entrust with the implementation of an IT project from A to Z.
9. Close cooperation of teams and regular rhythm of meetings
Working in small, multi-functional, autonomous, self-organizing teams is the best source of effective design solutions.
It is therefore worth leaving a lot of decision making to the team members. It is also necessary to provide the team with an appropriate working environment, conditions and support, as well as confidence in their competences. Small teams build resilience and make it easy to change direction when needed.
The regularity of the meetings helps to make sure that everyone knows where the project is at. The development (production) and business team must be in close cooperation throughout the duration of the project.
Meetings are a recommended form of information flow among team members and between teams. The most effective and efficient way of communicating information is a face-to-face conversation (or as today - a zoom conversation).
10. High Level Communication
There are no intermediaries in the business-software house communication. This allows the client to contact the project manager or developer directly. This contributes to the high quality of this communication - we do not extend the path, thanks to which we minimize the risk of misunderstandings due to the method of providing information.
What tools do we use for internal communication?
We use virtual tools to maintain consistent communication - it is impossible to create a complete project on a sheet of paper.
Good communication of team members and participation in meetings is the key to the efficient creation of solutions. For face-to-face meetings, we use instant messaging, such as Webex, Zoom, Teams or Meet. The Slack messenger is ideal for quickly settling matters between colleagues.
Virtual Asana, Jira or Trello boards are extremely helpful in writing projects and tasks, achieving smaller goals and exceeding project milestones.
On the other hand, Float allows us to monitor and effectively deploy production people in given projects.


Do you want to know how does a cooperation between software development company and clients look like?


Download our free ebook about digital transformation.
Summary:
Appropriate selection of the work methodology for the team - and Agile is such a method, among others - causes that the team delivers the product (software or application) within a specified time and without errors. Test processes while working on the project eliminate any errors. Implemented meticulously - they help to find weak links in project management, i.e. the place where the most time is spent in the project. This allows you to find out why this is happening and find a solution that will improve the entire process.