Business
Case Study: How did we automate customer service at AquaPark Wrocław?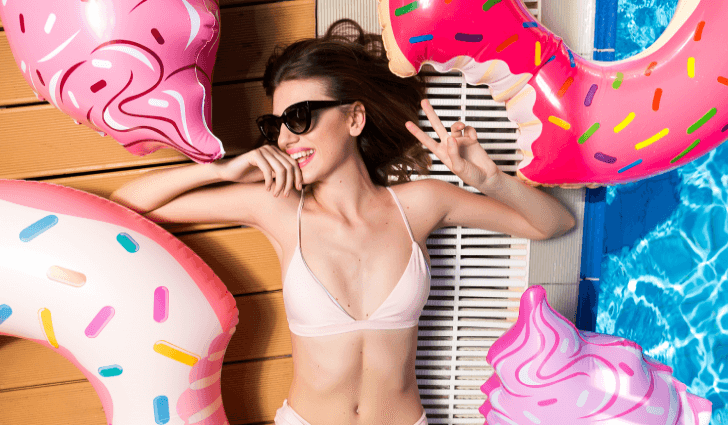 There are industries in which customer service can be extremely time-consuming and expensive. Hours spent answering questions, for which answers can be found in the FAQ - but people prefer to ask rather than check themselves. Sometimes clients need to be advised on what best meets their requirements. When they make a decision, you may need to redirect them to an online store, for example. Wanting to be well perceived, the employee spends time on routine activities, rather than activities that will help develop business and bring long-term results. What if all these routine activities were performed not by an employee, but by a chatbot?


Challenge:
Creation of a dedicated chatbot in the Messenger application for AquaPark Wrocław, which will automate repetitive customer inquiries and will act as a ticket advisor. The planned duration of the project: 60 days.
AquaPark Wrocław
Aquapark Wrocław exists since 2008. It is one of the best and most visited water parks in Europe. Annually it is visited by over 1,700,000 visitors. The vision of the Aquapark Wrocław, which is the undisputed leader on the entertainment, sport and recreation market in Poland, is to become the leader of this segment of services throughout Europe. The mission of AquaPark Wrocław is to create a unique place for clients - both the local community, tourists visiting Wrocław and employees. The main goal is to offer the highest quality entertainment and services that meet the requirements of even the most demanding guests. AquaPark Wrocław also attaches great importance to running an active campaign to promote a healthy lifestyle among people of all ages.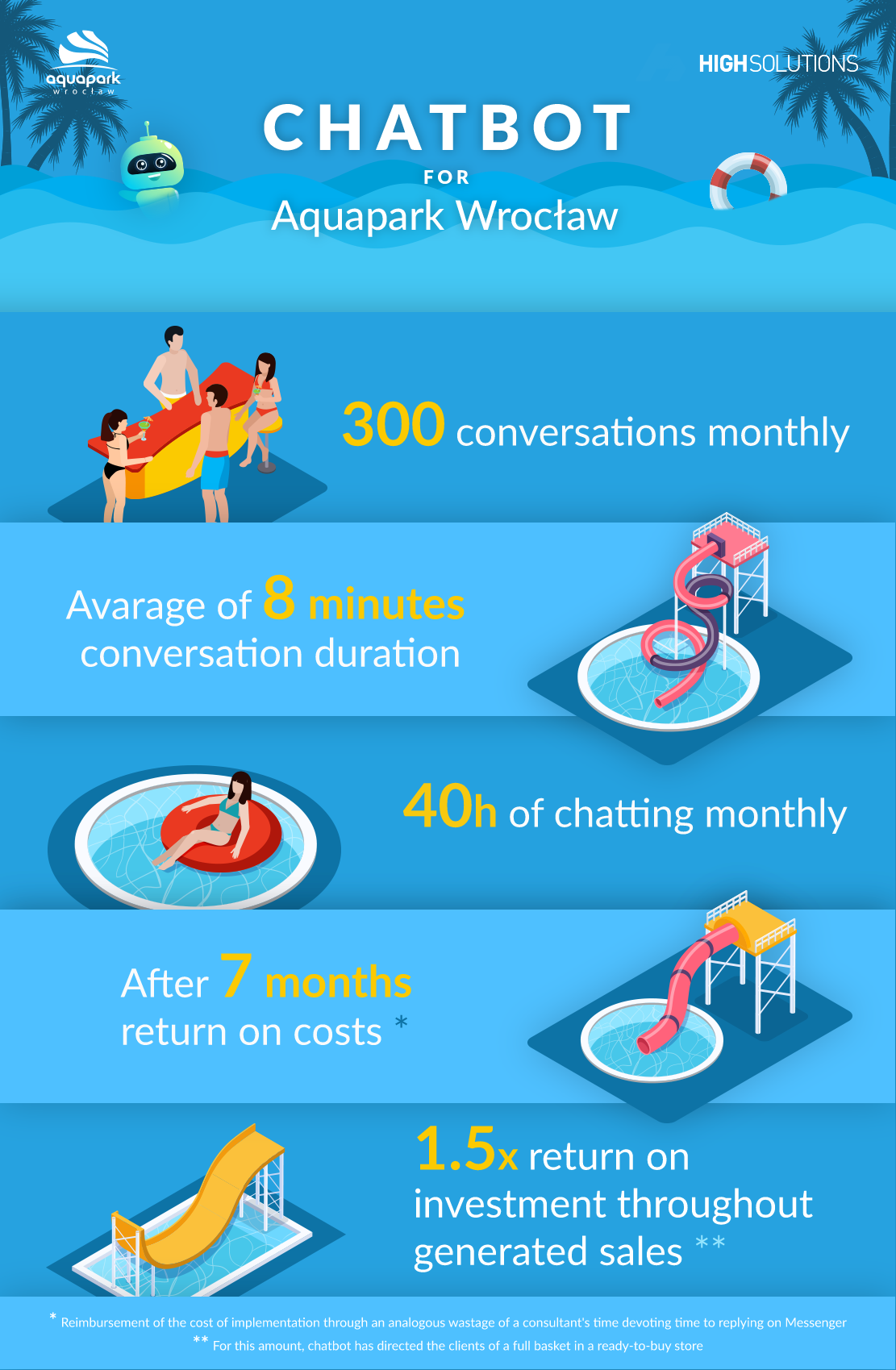 The beginning of cooperation and identification of needs
AquaPark Wrocław, after analyzing its challenges in everyday work, considered creating a dedicated chatbot in the Facebook Messenger application. The company decided to ask the chatbots experts on this matter.
We started cooperation with a common determination of the client's needs. Together, we determined the two main challenges of AquaPark Wrocław, which was to be implemented by a chatbot:
Challenge 1: Marketing department devoted a huge amount of time to handling repetitive client queries. Most of the questions were related to the object, tickets or opening hours - that type of information could be easily found in the FAQ section. Solution: Automate the answers to repetitive questions.
Challenge 2: Creating a system that during the conversation will advise on the selection of tickets and automatically redirect to the store. Solution: Advisory function and chatbot integration with an online store.
After auditing AquaPark Wrocław's needs, we also identified secondary needs that were included in the chatbot specification:
Creation of a simple and intuitive CMS panel for managing FAQ and Price List
Creating a panel with statistics of questions and ticket sales, which will allow more accurate analysis
Providing a chatbot opportunity for additional functions and integration with other systems supported by AquaPark Wrocław
The client was interested in efficient project implementation and timely completion.
Features of the designed Chatbot:
After the needs audit, we decided to create a dedicated script chatbot, which:
Responds to customer questions (FAQ)
Advises on the purchase of tickets
Is based on CMS, which is simple and intuitive to use
Gives the administrator access to the statistics panel at any time
The chatbot is built so that there is the possibility of further expansion of the system and functionalities
Created to integrate with marketing automation, it allows a consultant to enter the conversation in emergency situations as part of a fully automated process
guarantees
The customer has been assured about warranty procedures that apply to every project we carry out:
Service Level Agreement (SLA) at a high level to be at the customer's disposal
Full 3-month warranty for free repair of any errors
The availability of a chatbot in the trial version on HighSolutions servers and a test fanpage
Compliance of the project with the GDPR and full legal support on our part in this regard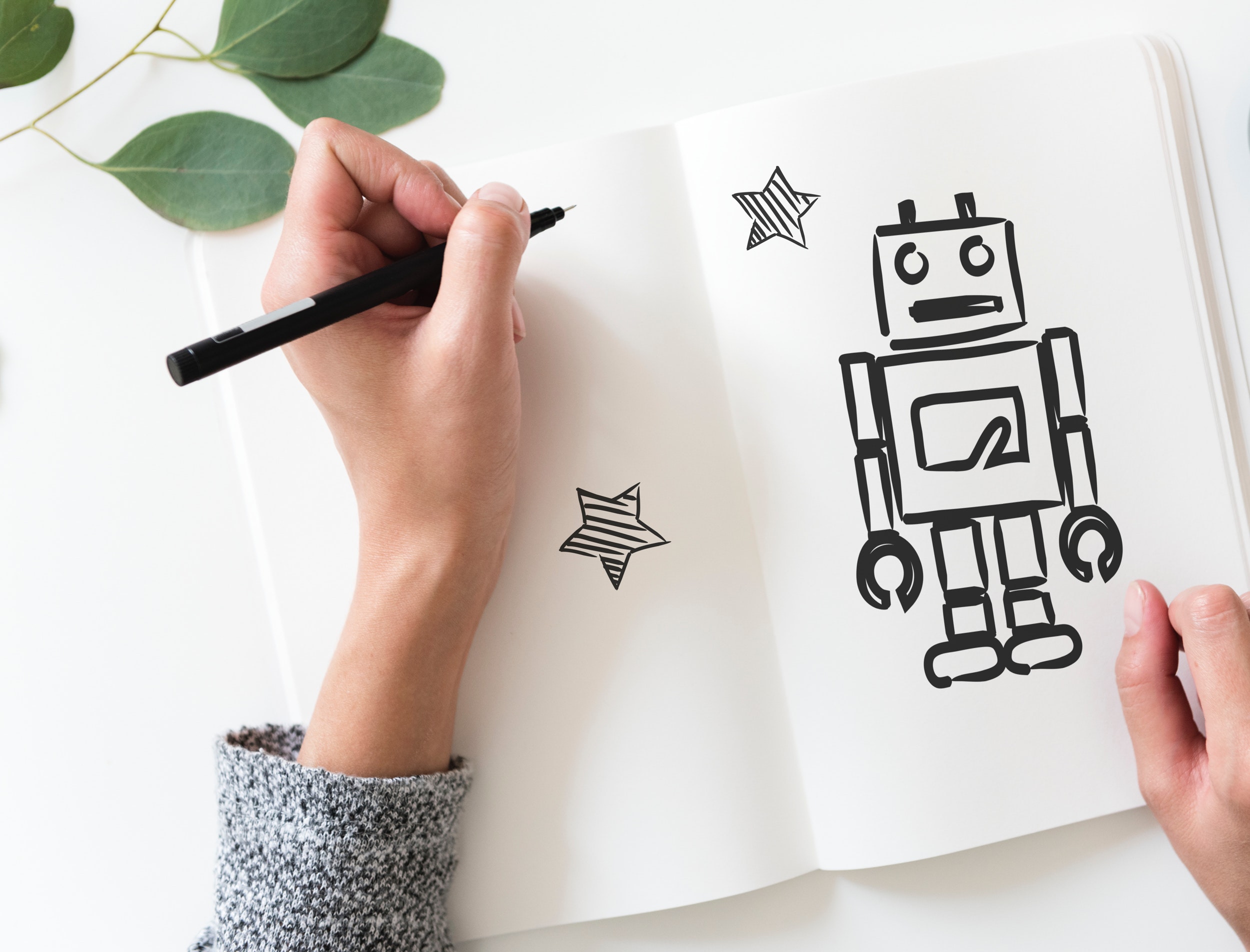 Technologies used in the chatbot
Chatbot has been based on a dedicated solution that follows the latest trends in Internet technologies, so it is not burdened with any restrictions.
Due to the needs of AquaPark Wrocław, the option based entirely on scenarios was chosen, thanks to which it was possible to implement such an advanced solution in such a short time.
Additionally, the chatbot used elements of artificial intelligence (NLP - Natural Language Processing) to better understand the intentions of customers who configure their order of tickets.
The result of the cooperation
Ultimately, in just 1.5 months, we designed, created, tested and implemented a dedicated script chatbot in the Messenger application for AquaPark Wrocław.
During the first half-year, it helped almost 2,000 people, responding to over 16,000 messages. An unexpected side effect was promotion to the position of the manager of the person responsible for this initiative and the coordination of the project ;)

Anna Lisowska
Communication and PR Manager at Aquapark Wrocław



Cooperation with HighSolutions is pure pleasure! I always knew what was going on in the project and what steps would be taken in the coming days/weeks. Everyone who works with social media knows that Facebook likes to play pranks and is unpredictable, which is why I'm even more glad that Michalina, who even in the most crisis situations is an oasis of peace and knows how to handle with every problem, took care of our chatbot. Am I satisfied with the project? Of course! It's good to see that our social media specialist is more often involved in marketing strategy and tracking trends than lost flip flops.


And it's not that our guests' lost things don't interest us! Our bot will simply help you faster than admin.
We have less work, and our guests get an answer faster, win - win.