Business
Chatbots in e-commerce: 5 ways in which this technology will boost your e-store revenue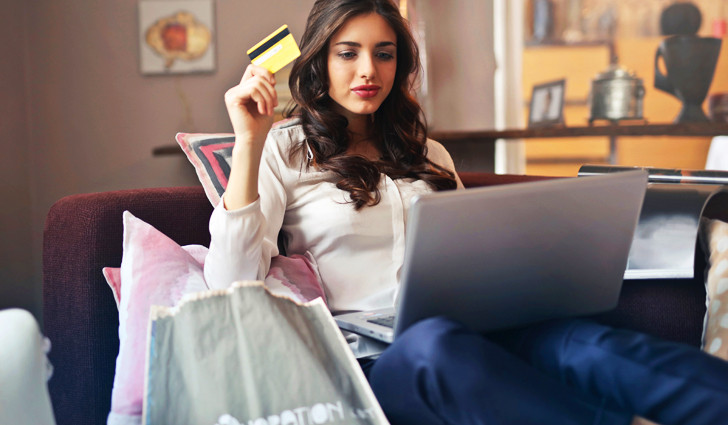 Chatbots took over the global e-commerce market. Created to ensure uninterrupted and error-free customer service and exceptional customer experience, they are perfect for e-stores with a large volume of products. If you are thinking about introducing a chatbot to your online store - this entry is for you. If you do not know the chatbots yet, but you are looking for new solutions that will increase your e-shop revenue - read more.
In my article, I will tell you about it:
Why is it worth considering a chatbot for automating customer service,
Why are the chatbots beneficial for e-commerce,
What are the top 5 uses of chatbots in e-commerce?
Ready? Let's begin!

What is a Chatbot?
Chatbot is a program (working in the Facebook Messenger application on a store profile or on an online store website) simulating interaction with a "human" interlocutor. Currently in business, chatbots are most often used to automate customer service queries. Number of applications? Countless! But my post will focus on the use of chatbots in e-commerce.
If you want to learn more about chatbot applications in other industries, I invite you here.


Chatbot - personalized shopping assistant 2.0
The facts are: customers do not want to be forced to call your store to ask for a product. They also do not want to send an e-mail and wait several hours or days for a response. Customers want to be served immediately. In addition, they expect individual treatment, free giveaways and service at the highest level.
As you haven't been in the e-commerce industry since today, you probably already heard the term "conversational commerce". It concerns the use of chatbots as sellers serving the consumer.
According to Chatbots Magazine introducing chatbots to e-commerce brings great results - 10-15% increase in conversions, greater customer satisfaction, less abandoned shopping carts. It solves the problem of responding to the most repetitive actions, which allows employees to perform more qualified work.
Depending on the size of your store, it is an investment in hundreds (thousands?) of teams work hours. Chatbot never sleeps (as opposed to traditional customer service), always responds immediately and always correctly.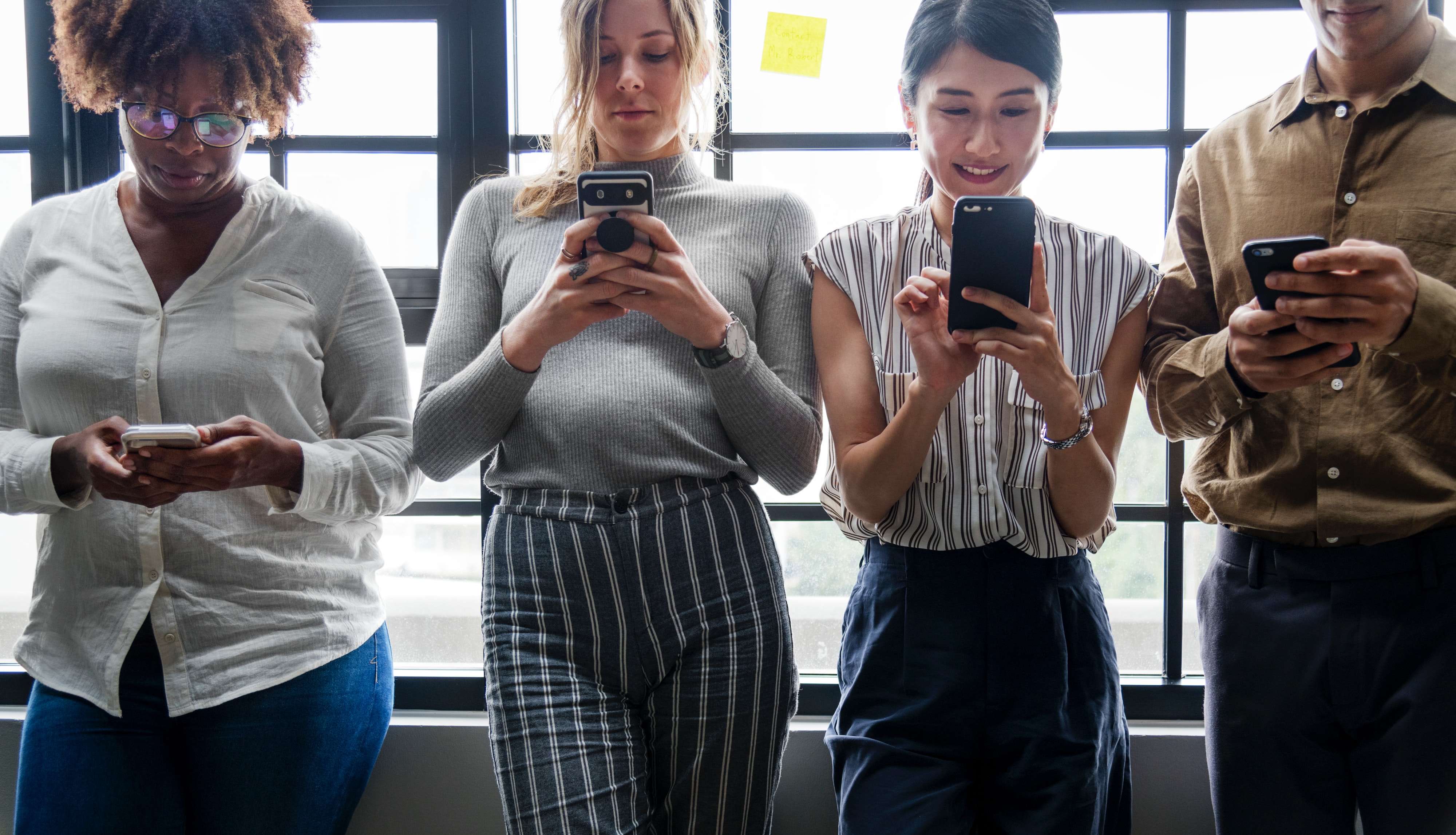 Chatbot will allow you to transfer your experience from offline shopping to online thanks to personalized customer advice.
The main applications of chatbots in e-commerce
Chatbots in e-commerce meet 3 main functions:
act as a virtual shopping assistant,
recommend products,
they help in completing the shopping process.
But that is not the end of their possibilities. It should also be mentioned that they:
provide personalized recommendations,
send additional information,
send push notifications,
help in online transactions,
collect customer data and feedback,
provide support,
conduct market research,
entertain and educate users.
If you want to learn more about how it is possible, you can read about it in the post about the technical secrets of chatbots.
Let me introduce you to the 5 most important chatbot applications that will make e-commerce earn more. Let's go!
Main uses of chatbot in the e-commerce industry:
1. Up-selling and cross-selling
Chatbot on the online store will help you in up-selling and cross-selling activities. It will become a new communication channel, through which you can help the customer in choosing the rights products.
The client bought an evening dress? Chatbot, like an assistant in a real-time shop, will suggest shoes or a bag that matches the style. The customer has just bought new leather shoes? Chatbot will suggest buying a suitable skincare product.
Yes, it will do exactly the same thing that shopping assistant did recently at the cash register when you were buying new leather shoes. It will transfer well-known offline shopping experience online to provide a unique shopping experience. That's why we call it the 2.0 consumer assistant.
Find out more about how the world's largest brands use the potential of chatbots to increase sales here.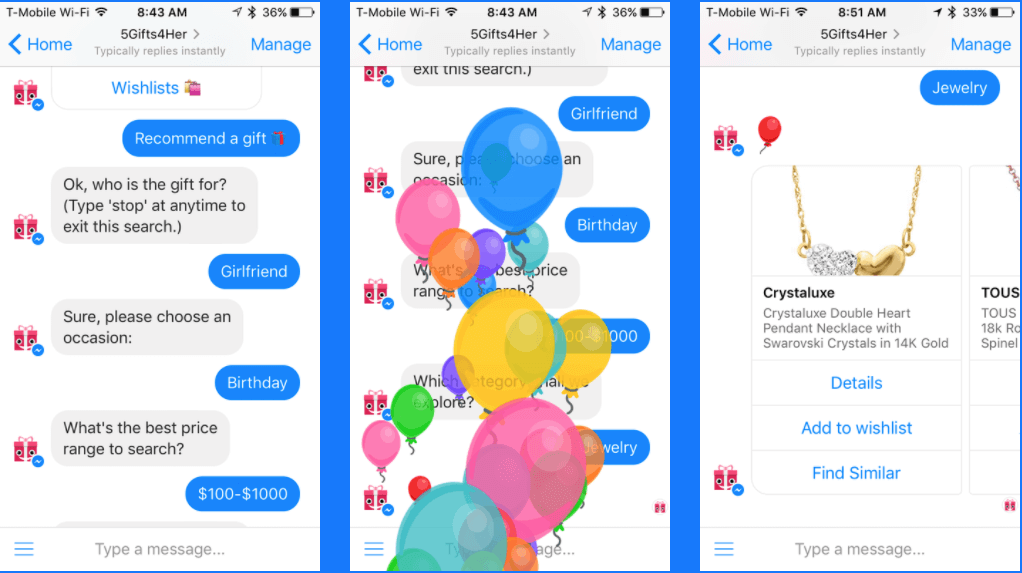 5Gifts4Her shop's chatbot on Facebook Messenger. Source: yotpo.com
2. A new remarketing channel
Acquiring a new customer is 5 times more expensive than maintaining the current customer. Solution? Do not let customers forget about your store.
New limited collection in your store? An overnight sale - 60%? E-mail, text messages and ads are no longer the only channels to inform your clients. The chatbot window is another way to tell consumers about promotions, sales and new collections.
Imagine it. The consumer asks a question on the Messenger about buying a sofa for the living room. Chatbot answers all the questions. Finally, the consumer buys the product. Or not.
Anyway - say hello to your new remarketing channel!
You know what the consumer needed and what he did. This information can be found on the chatbot platform, which is able to segment clients and then send push information. Not by email. Not in the application. Straight to the Messenger's inbox.
If the consumer bought a couch - chatbot will inform you about the discount on the pillows in the design matching the sofa. If the consumer resigns from the purchase - he will send him a personal promotional code.
Remarketing and personalized shopping experience in one.
3. Rescuing abandoned carts
The moment of the "shopping cart" is the most important stage on the client's path, and at the same time the biggest challenge for e-stores. On average, 69.28% of online shopping carts are being abandoned (Source: Baymard Studies based on the results of 40 different studies in e-commerce)
One of the reasons customers leave shopping carts may be insufficient amount of delivery information, payments, no confirmation of purchase safety, etc. Captain chatbot is here for the rescue!
Chatbots help the consumer 24/7 to answer all possible questions and concerns. They show where information about the personal collection can be easily found when the product will be available again and how long it will be delivered.
In other words: 4:32 in the morning, customer service sleeps, and chatbot saves shopping carts 😉
What's more, another interesting aspect is programming the chatbot so that it offers personalized discount coupons encouraging for the purchase.
Did the client hesitate a bit too long? Moved the cursor over the "Remove from the shopping cart" button and went back? Or worse, ended the session? Chatbot will open a window (in the first case immediately, in the second at the next entry) and will propose a special 5% discount coupon. Such unexpected gratification will be very stimulating!
Thanks to chatbot you will reduce the percentage of abandoned shopping carts and provide your customers with a unique shopping experience.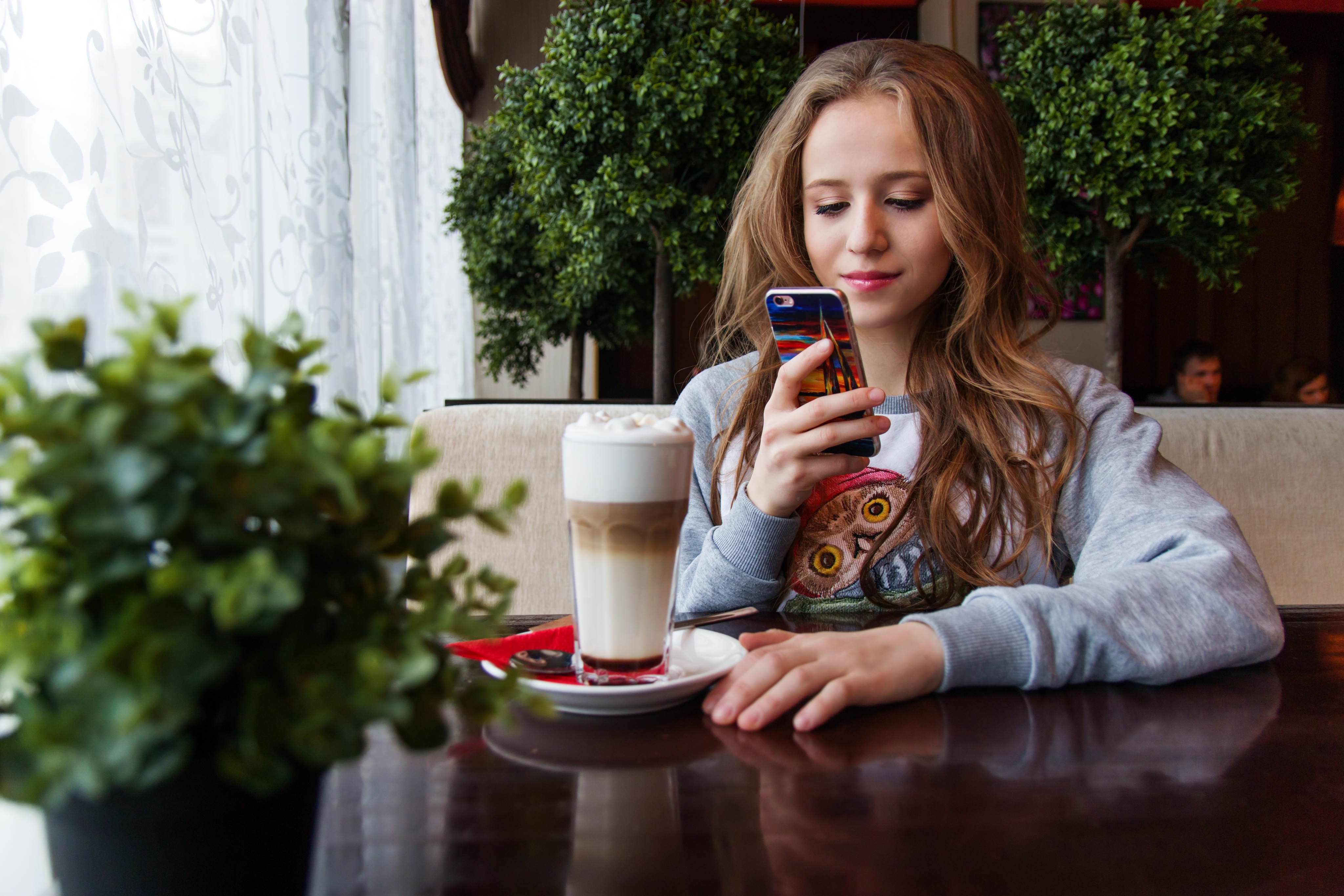 4. Greater customer satisfaction and engagement
I think the first effective place for chatbots in e-commerce is customer service. Simple questions Yes / No and other filtering according to the needs will make the customer support in e-commerce will be MUCH more effective. Ezra Firestone, CEO of Smart Marketer Inc.
Imagine a man (let's call him John) who would like to present a bouquet of flowers to his beloved one. He decided to buy it in the online florist. Probably opened several online stores at once in several tabs. Scrolls hundreds of bouquets in dozens of colours.
Suddenly, Chatbot window opens in one of the shops.
Chatbot: Hey, how can I help you?
John: Looking for a bouquet of flowers
Chatbot: Who would you like to give them to?
John: My fiancée.
Chatbot: What colour does she like the most?
John: Yyy ... I do not know ... I think it's red?
Chatbot: Great! Do you prefer something more elegant and refined or natural and boho?
John: Yyy ... hmm ... probably the first one.
Chatbot: What budget would you like to spend on the purchase?
Johnn: No more than 20 $. Chatbot: John, this bouquet will be perfect for her. As it is your first purchase in our store, you receive a 5% discount for the password John001. I wish you moments of love!
Of course, this is a simplified pattern of conversation.
Conversations with chatbot do not have to be robotic and schematic. They can be an online embodiment of a professional shop advisor (in this case, a florist's seller) who advises an undecided customer who has found himself in a foreign field. Such chatbot will not only prevent the retention of customers from the store, but will increase its commitment, satisfaction from the purchase and will make the customer remember this shopping experience.
5. Collecting customer feedback
Chatbot opens a whole new world of information about consumers and their preferences. Just like a shopkeeper in a store, chatbot will offer help and listen to their ills and opinions. By listening to the real questions of your consumers, you can learn a lot about them. What's more - use this information to optimize the e-store.
If customers have a problem with finding a specific product, notoriously ask a chatbot about the size, about shipping costs - you know then that this information should be much better exposed. If you ask a chatbot how to find a particular drill model, you already know that it is worth to work on the category page.
Chatbot for e-commerce - where to start?
First, choose a few most important aspects in which chatbot can help your business. Remember that chatbot, like any other software, can be constantly developed and improved along with how the store develops and which change gives the biggest increase in user engagement and increased conversions.
It's best to start by defining 3-5 functions. If you are not sure which functions it should be - it's best to contact the company that creates and implements chatbots. Technological experience and expert consulting clarify ideas.
The key things that should be taken into account when defining your chatbot are:
Define key functionalities,
Choose a place (Facebook Messenger, e-commerce site or other places),
Pick target group,
Define integrations with other systems you use.
To sum up, chatbot is a great way to develop an e-store that will help in up-selling, cross-selling, remarketing, service and customer and providing a unique shopping experience for your industry.
Need a chatbot to support your business?