Business
Digital business transformation: how to carry your business through this process to achieve success? (Analysis + practical examples)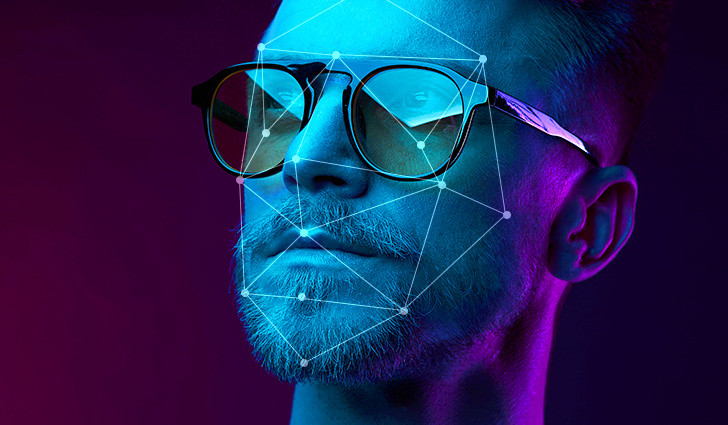 In the face of the ever-changing world, business should not only invest in new technologies, but it is even forced to use them. And depending on how well these new technologies will be implemented in the company processes, they will bring so many or so few benefits to the company. How to fully use the possibilities of digital transformation? Read to find out.
The fourth industrial revolution (Industry 4.0, Industry 4.0) has already arrived and the sooner we join the trend, the more we will be able to use it. Most companies already use cloud-based solutions (cloud computing), but this does not make us ready for industry 4.0. However, what is interesting, according to Deloitte report, cloud solutions are shown as those with the largest business potential, before the Internet of Things (IoT - Internet of Things), mobile and artificial intelligence.
However, using only a few online tools, we will be like a carriage with horses, equipped with a small additional engine. To drive a car, we have to change much more.
And here comes the digital transformation - the process of transformation of business models, optimization of processes in the organization, focused on creating a digital work environment and the involvement of employees and clients in various communication channels.
The main goal of digital transformation is:
increasing efficiency,
better risk management,
achieving significant savings.
In addition to major business goals, digital transformation will significantly affect changes in how we do business, how we deliver value and benefits to our clients, as well as organizational culture.
Previously popular phrases were digitization and digitalization, but they are much narrower.
Digitization means the process of transferring content/data to a digital form, and computerization is the implementation of IT tools to a company. However, digital transformation is another level that involves modifying and supplementing business models and business processes with the use of new technologies as an inseparable part of them.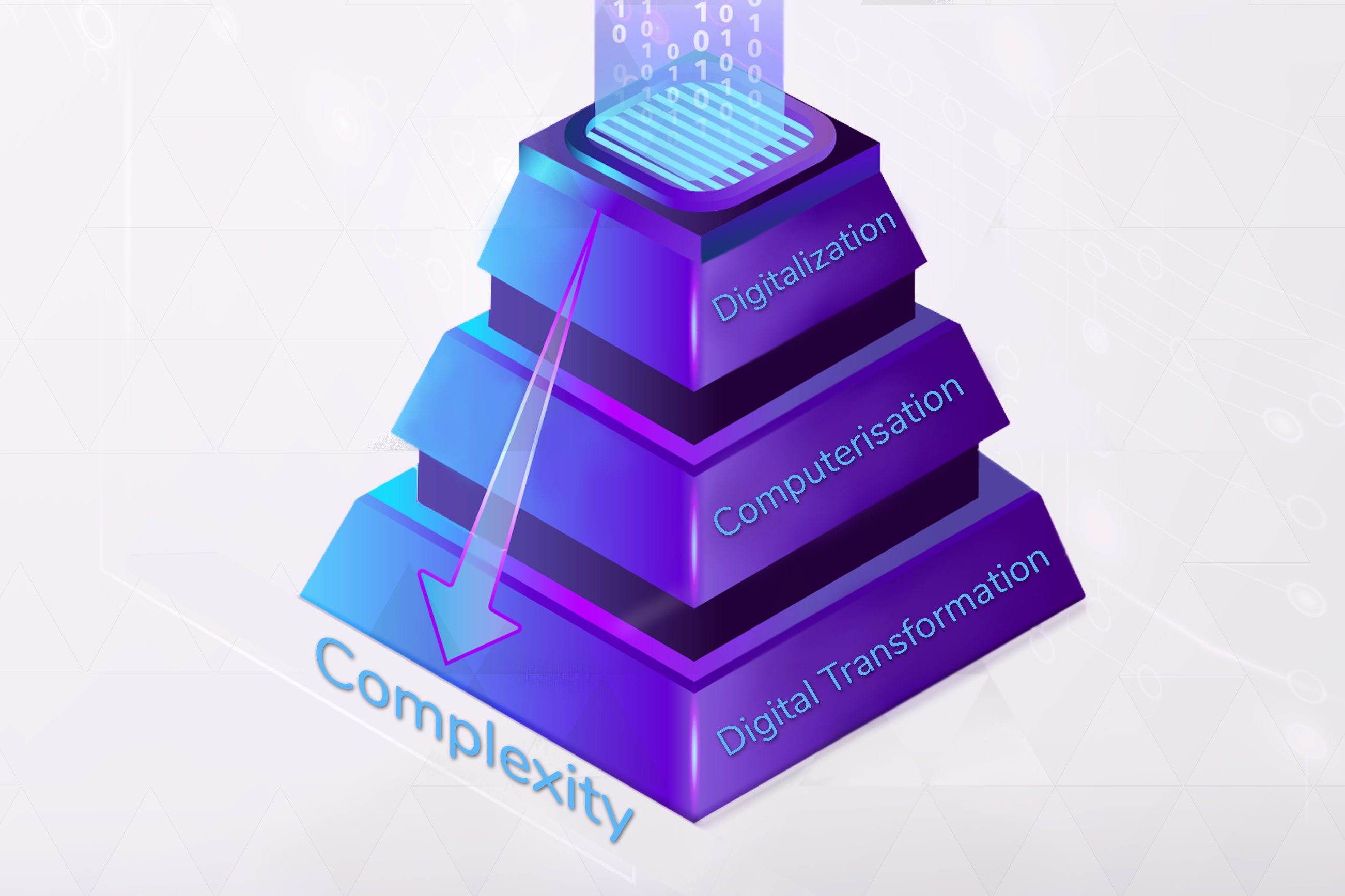 Transition from the level of digitization to full digital transformation.
Although the digital transformation has been talked about for several years (about the fourth industrial revolution too), it is never too late to start. However, the sooner we start, the more competitive advantage we get or we will not let competition escape us too much.
However, it is worth being aware that not every transformation will succeed, because it is more an open-heart surgery than plastic surgery. According to the McKinsey report only every third transformation is fully successful and brings long-term profits for the company. That's why it's so important to be surrounded by people and partners who understand new technologies. But about that in a moment. Let's get back to the beginning.
Why is digital transformation necessary?
New technologies are a natural competitive advantage and not using them will slow down the company's development and may also cause business problems. Digital transformation has many minor benefits that, adding up - affect the company's success:
Improved processes
Currently, most of our business processes are based on traditional activities with the addition of IT tools in several places, which are more of an overlay than an integral part of business. Of course, the more innovative, younger or more modern the company, the more IT tools are used, but often still work in a traditional way (eg we still use paper instead of electronic versions).
When we design business processes from scratch, wanting to optimize them maximally by focusing on efficiency and the human aspect, we can achieve much more than before. That is why digital transformation is not just about adding new tools. It is a complete remodeling of how we operate to take full advantage of the potential of IT tools and the opportunities they offer. A good example is the company Alcomex, which, introducing the ERP enterprise management system, has moved its efficiency to a new level.
Savings
Every change in the company is an investment that has to be paid back at a given time. The deeper the changes, the higher the costs, but also the greater the expected return on investment (ROI).
According to many studies, digital transformation can reduce the costs of certain processes by up to 70-90%, thanks to the use of artificial intelligence or the automation of repetitive processes thanks to chatbots. This trend has already started with medium and large companies, gaining a competitive advantage.
Any investment in new technologies should also pay off quickly, relieving employees of tedious or repetitive tasks.
Security
Implementation of IT solutions is inseparably connected with security and data processing issues. Thanks to the presence of IT tools inside processes, we are able to provide more security than before, because the mere use of computerization of processes and cloud solutions increases our threat to cyber attacks.
In the times of the GDP, we must be able to document our level of security, privacy and security. Thanks to the digital transformation, we can roast several birds with one stone - both safety and savings, and greater efficiency.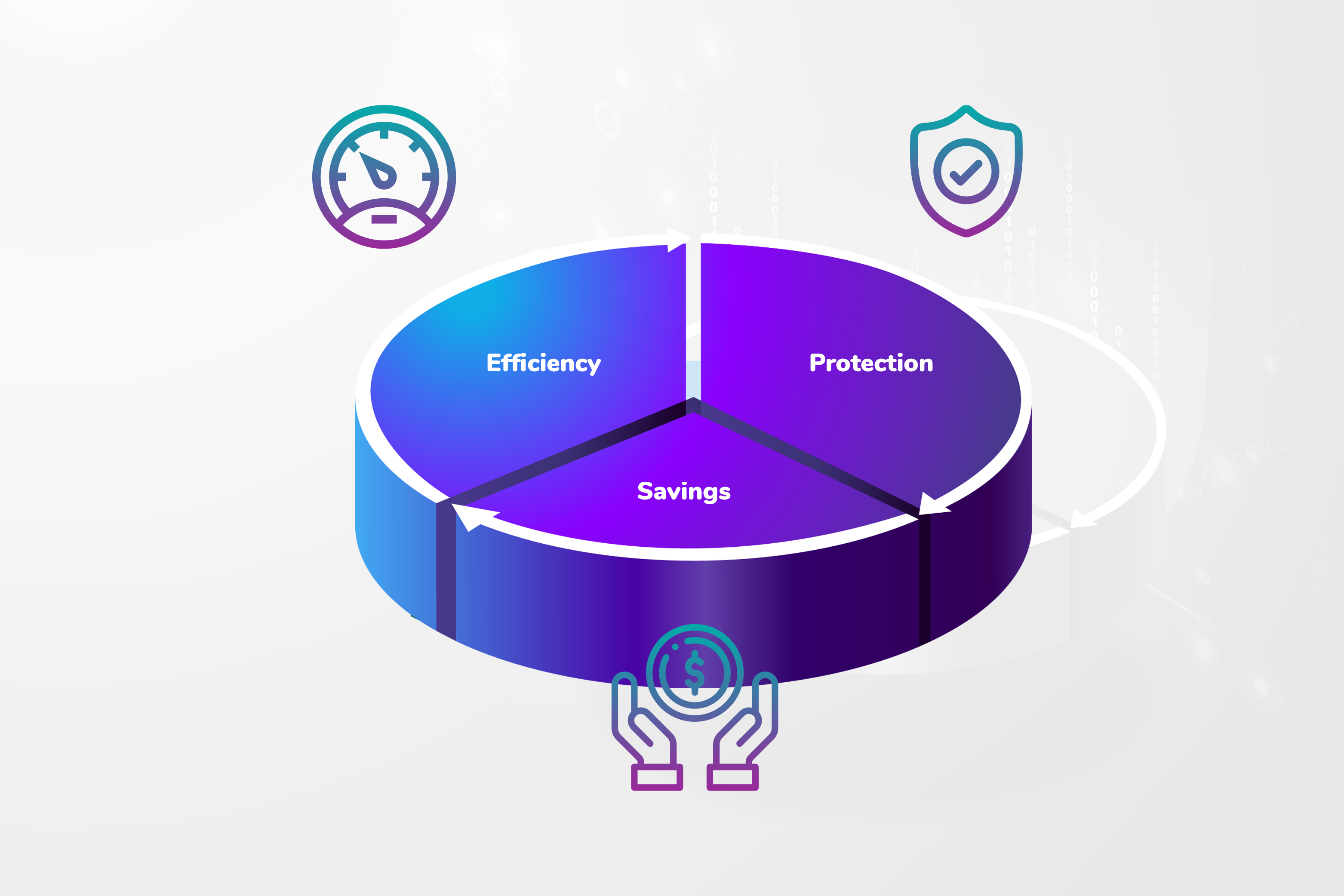 Digital transformation means improved processes, greater security and savings.
What does the digital transformation look like?
As I mentioned before, digital transformation is not just about implementing new IT solutions. It's a creative modification or even a complete revolutionizing of models and business processes.
It is also worth considering how we would like to interact with our clients and how we should operate from an operational perspective. In the Big Data era, we have a lot of data that, if properly analyzed and used, can give us very important tips and even suggest the direction of change.
Most often, digital transformation begins with a full analysis of the current situation (mapping current processes, limitations). Knowing also the company's strategy and the vision of its long-term development, we can start the right transformation process.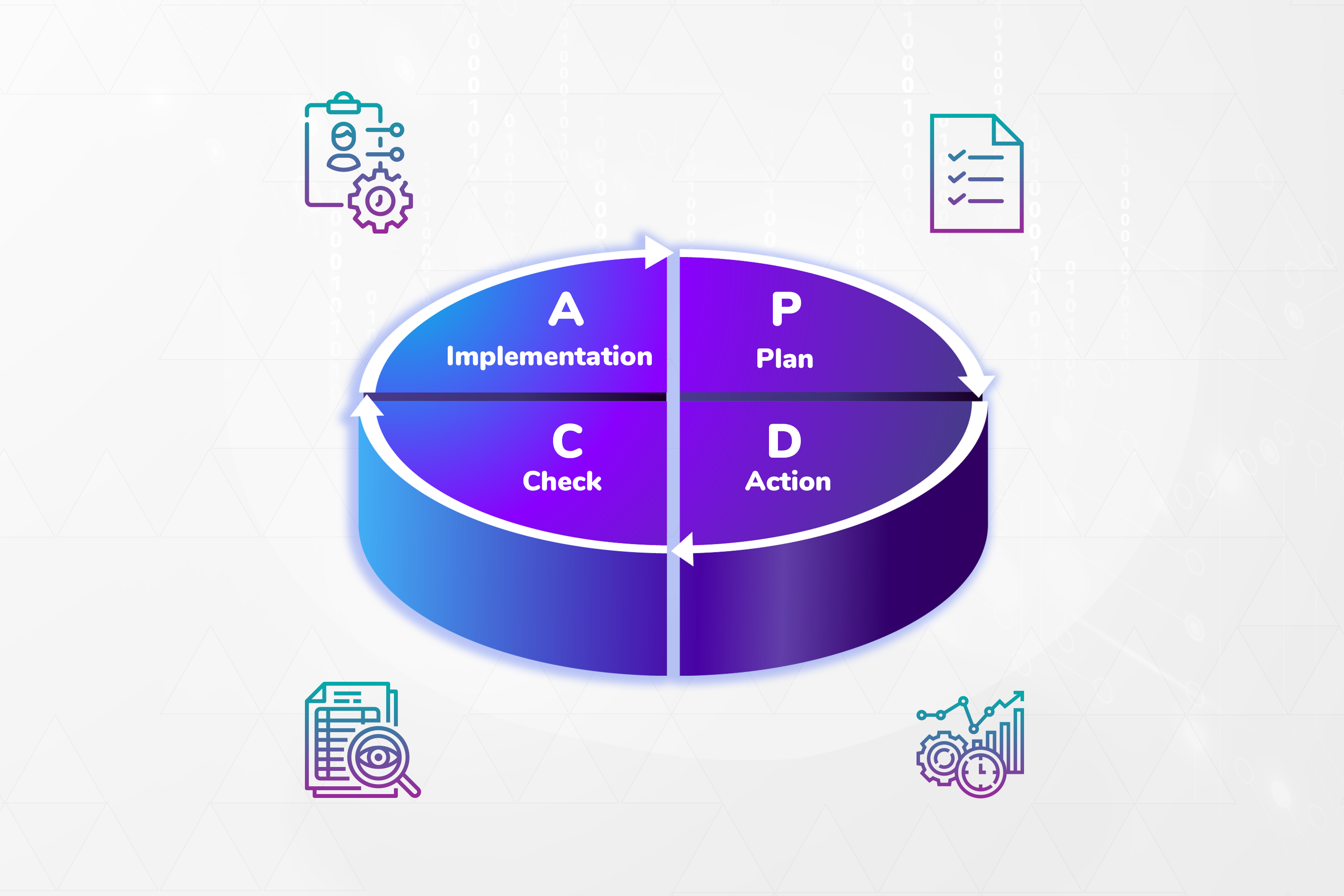 The Deming process in implementing IT solutions.
After the analysis and recognition phase of the current situation, possibilities and needs of the company, one should think about the biggest problems/challenges.
Next, we prepare the first hypothesis which solution has the greatest chance of success and meets all the requirements and needs. And we are trying to verify this hypothesis with the simplest solution (MVP - Most Viable Product).
The next phase is verification if this simplified solution actually solves the problem, increases efficiency or meets other pre-established assumptions.
If so, this solution is developed and implemented permanently in the business process. Of course, in the context of digital transformation, the product of this cycle is not just an IT system, but also a business process project or another piece of business that we touch. We consider the success of the transformation in terms of the whole solution (IT tools, processes, change)
However, if the hypothesis did not work - one should draw conclusions (if it was successful as well) and go on to the next hypothesis, starting the Deming cycle anew.
You can read more about the pre-implementation analysis here.
Who is responsible for the digital transformation in the company?
The person responsible for the digital transformation in the company is usually the CIO (Chief Information Officer), a person whose responsibility is to manage IT in the company.
Of course, it is very important to support the entire board, because these changes will not always be simple or quick.
Equally important is the involvement of colleagues at every level of the organization, because they know perfectly well what duties/responsibilities they have and how processes look like in reality.
It is only when everyone cooperates that we have a chance for an effective digital transformation. The key competence here will be management change, because everyone should understand the need and significance of the changes taking place, as well as support and stimulate them. It may also be useful to hire an external consultant or coach who will not only support the managerial staff in the change process, but also make sure that everyone understands and agrees with the direction in which the company is heading.
Challenges in digital transformation
Digital transformation is not a simple process as it enters the foundations of business. Therefore, the whole process also consists of several challenges:
Change management
I have already written about the change management in the previous section, but definitely you can not ignore this topic, because one serious mistake can not only ruin the effort put into transformation, but also undermine business stability (like a transplant that has not been accepted).
Flexibility and agile approach
Startups are the most flexible and agile forms of organizations that can test their hypotheses very quickly and change assumptions (pivot) depending on the response received from customers. It is worth using this agility in larger organizations, which is obviously not easy.
But only thanks to flexibility we will be able to react quickly, give up ideas that do not work, improve other ideas. The Lean Startup model also perfectly harmonizes with the Deming cycle described earlier.
Questioning the status quo
Although it is said that the only constant thing is change, we as humans are very resistant to it. We attach to our habits. We are afraid of instability and uncertainty. And just to challenge each piece of knowledge and every dogma will allow us to think outside the box, which will help us in the development of such changes, such processes that will become real competitive advantages.
Focus on the client
Many companies say that the client is the most important, although in practice it comes out differently. We also have a lean approach that requires focusing only on activities that give value to the customer.
Digital transformation allows for the actual implementation of the idea that the client is in the middle of our processes. Imagine crowdsourcing ideas from clients. Until now it was the maximum tool used by marketing to engage clients. But we can use this as a permanent element of our process, so that the client will actually be with us in this process.
Do not stop at first change/difficulty
Digital transformation is not a single project. This is a process, changing the organization's thinking about innovation. The first major difficulty will definitely happen, but it should not weaken our determination to improve the company.
Also, do not stop when the first change is implemented and rest on your laurels. Only then can you accelerate by seeing the success and positives of the (r) evolution you have made.
How to start and how to succeed?
Digital transformation is a long, complex and advanced process. It's worth getting ready for it.
Certainly it is very important to have the right people in managerial positions who are well acquainted with new technologies.
It is also important to support employees to use new technologies and modern methods of work for more efficient work (including the possibility of remote work, 6 hours of work, etc.). To ensure this, it is also necessary to create conditions for this change, as well as to think about creating modern jobs.
It is also worth starting the process of computerization and automation of processes that are used daily - thanks to this, more aspects of business will be immediately available in electronic form.
And of course often the companies themselves will not be able to carry out this process with their own resources. We need experienced companies from the border of consulting and IT that will both analyze business issues and be able to advise on technological aspects, as well as prepare and implement IT solutions along with changes in business processes.
It is worth choosing a company that has experience, but also one that will show above-average commitment to the success of your company.
Are you ready for a digital transformation in your company?