Technologies
ERP and CRM systems: how much revenue can they bring your company?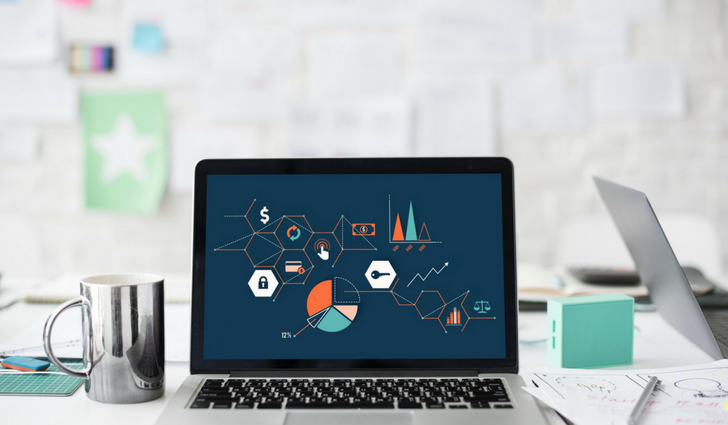 In the third industrial revolution, as our times are called right now, the technology is the driving force of economies and businesses. No big company can afford to be left behind and not take advantage of the benefits of the Internet, computerization and digitization. In this blogpost I try to explain what secrets, misunderstandings and opportunities hide behind ERP (Enterprise Resource Planning) and CRM (Customer Relationship Management) acronyms.
ERP system – modern company management
Perhaps you have heard about the SAP system , and maybe you even had a pleasure to use it? SAP is the most popular ERP system, mainly used by corporations. Its biggest advantage is that it is possible to adapt it to any company regardless of the industry. The biggest disadvantage? Astronomical costs and a strongly unintuitive user interface.
If you work in the small and medium enterprises sector, SAP (or any other ready-made solution) will not be the best option for you. Much more effective (and cost-friendly) is hiring experienced software house to create a dedicated ERP system after prior analysis of the processes taking place in the company along with their optimization.
Too good to be true? Let me give you some examples.
Case study – ERP system for watchmaking company
One of the most interesting examples of a dedicated ERP system for business is a project that we made for the watchmaker's company - one of the largest jewellery companies in Poland. The company receives dozens of watches to repair or replace batteries every day. On a monthly basis, the number of arriving watches goes up to a thousand.
The whole repair history of all watches was stored in one huge Excel file. As you may assume, it was not the best idea. Salon employees were not able to find information about the status of a given watch quickly when the customer rang. What's more, the feedback on number of watches under repair and the number of watches waiting for the delivery was available only for the person managing the Excel file. The whole process of inserting information about the repair was so slow, that there was a fixed two-day delay in inserting the data into the file.
When our client asked us for help in automating this process, we analyzed his needs and current processes as well as business constraints. As a result, we were able to offer the best ERP solution – without unnecessary functionalities, ideally suited to the needs and processes of the client. After 2 months, we created an internet platform, where the database of all watch repairs was located. Now, the process of data implementation takes 3 time less than before. In addition, clients from every place in the world have an insight into the status of repair of watches and other valuable statistics for them.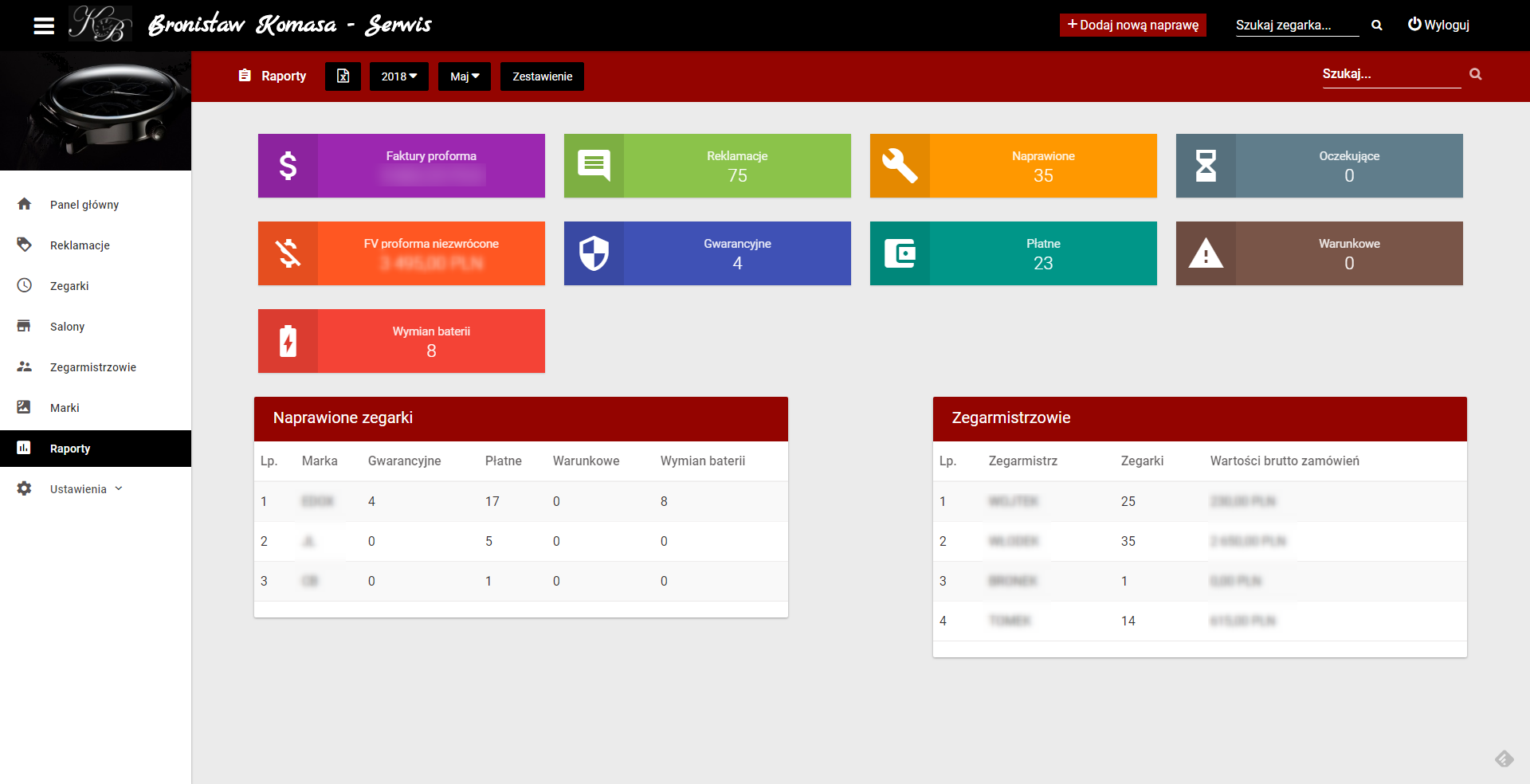 Dedicated ERP solution, that automated the service process and enabled customers to verify the repair status of the watch.

Moreover, invoices and reports are now generated automatically – before, the preparation of them took hours. Since the implementation of the tailor-made system the client's business is constantly growing. We couldn't be more happy that we contributed to the client's business success because that's what we are here for.

You can learn more about this project HERE.
Case study – ERP system for Alcomex
There are moments in life of an entrepreneur when they are proud of the work of his team. I would like to tell you briefly about one of such moments.
On one of the warm July days I was invited to the 10th anniversary party of our client, a construction company specializing in facade systems. For me, every opportunity to get to know your client and his employees is a pleasure. During the event I was positively surprised when the owner was going through the history of the company naming five milestones that brought his company to the place it is now in – our ERP system was one of them!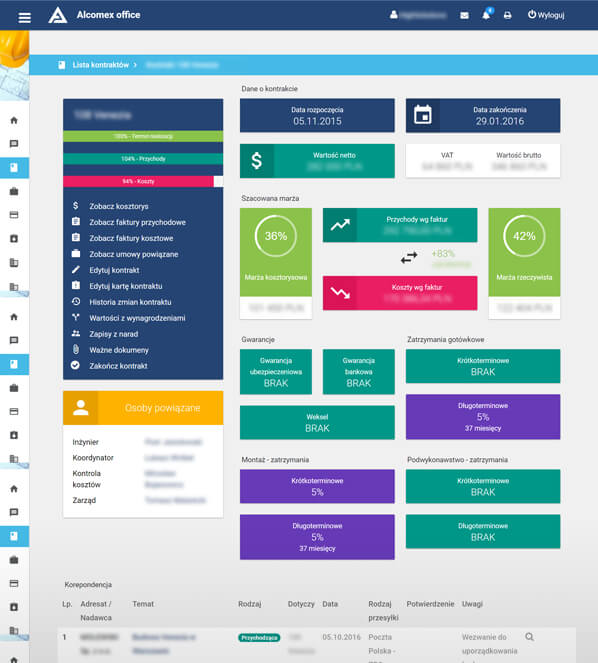 Alcomex Office is a comprehensive ERP system for enterprise management. All functionalities of the platform have been adapted to internal processes in the company to improve the flow of data and improve the efficiency of the enterprise.
We always try to create a solution ideally suited to the client's needs (current and future ones). Here it was no different. We felt that this system would be a big step forward for our client, but we did not expect that in the eyes of the business owner it was a must-have for further development.
Thanks to Alcomex Office, all contracts are kept in line, the progress of work is well-known, all financial issues are transparent and, additionally, it has become the centre of the company life. All employees have access to the system – they create tasks, settle holidays, hold their correspondence and inventory.
Thanks to our dedicated ERP platform, the company knows exactly what contracts are profitable and which are not. It turned out that a few contracts that seemed to be lucrative were not that good, and vice versa – those that were not expected to give many profits, turned out to be very efficient. Without this system it was virtually impossible to calculate this on an ongoing basis.
Before the customer decided on our services, he was looking for ready-made solutions. Unfortunately, due to the specificity of the industry and their needs, there was no adequate system for their desires. In the end, a dedicated internet platform was the only possible solution.
The system has been used for several years now and we are slowly approaching the company's 15th anniversary. I cannot wait for the next integration event to hear about the further successes of our client!
You can learn more about this realization HERE.
A CRM system - contact with the customer in the world 2.0 and 3.0

The other most popular system used by enterprises of all sizes are CRM systems, which are used to manage the contact with potential and current customers.
There are many ready-made solutions on the market, but more of less they work the same - collect all possible data about your clients to help you provide the best services for them.
Traditional CRM system
A good CRM system is essential in the day-to-day activity of any company. It is used to keep all information about our contractors, the actions we want to take and the history of contact. These systems are constantly evolving and become more and more automatic, for example, prospectus scoring, which is an automatic attribution of points to potential customers (e.g. for opening an e-mail, clicking a link, visiting a website, position in a company, etc.).
The use of CRM by marketing and sales departments can significantly help them synchronize activities, increase efficiency, and understand customer needs better.
A good CRM system may help you to:
Prioritize leads according to their level of interest

Create follow-up campaigns

Understand the process of signing deals

Offer a better phone call suport

Automate repetitive tasks

Observe clients' behaviour in your platforms

Aggregate all the client's contacts in one place

Summary

Technology is constantly changing our lives and constantly influencing every aspect of business. Something that was once a competitive advantage, is now a standard on the market and to stay in the game, companies automate virtually everything they can. Chatbot is the perfect example of such automatization. More and more companies understand that introducing chatbot saves money and time. You can read about which businesses have already used chatbot HERE.
Software can also make your life easier in your company. Ask befriended companies what software they use. Test it. And if you feel that it could benefit you – patiently and unyieldingly implement them.
And if none of the ready solutions meet your expectations - do not break down. An experienced software house (like ours ;) ) is able to create everything you need.