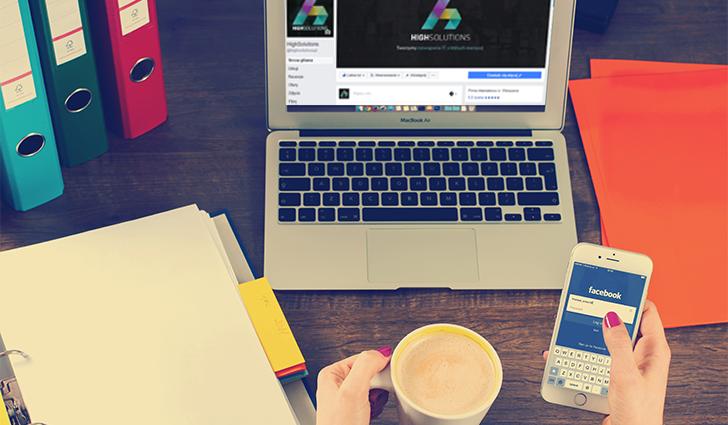 When running sales and online marketing, it is worth keeping up with new trends and sales support tools. One of the more and more popular channels is chatbots at Facebook Messenger. This solution allows you to automate the communication process with the client and brings many other benefits. This is another step towards transforming this application into a full-value sales channel. Let's take a look at how we can use Messenger chatbot for sale on the Internet and what effects it has.
What is a Facebook Messenger chatbot?
Before we start to think about the benefits of using Facebook Messenger chatbots, it is worth knowing what this innovative technology is all about. Simply put, it is an extensive messenger that automatically responds to messages sent by Messenger users. It can not only answer their questions, but also be properly configured to inform about promotions, order status and participate in the shopping process. Thanks to the optimization and introduction of elements of artificial intelligence, chatbot is a tool that "talks" to the user.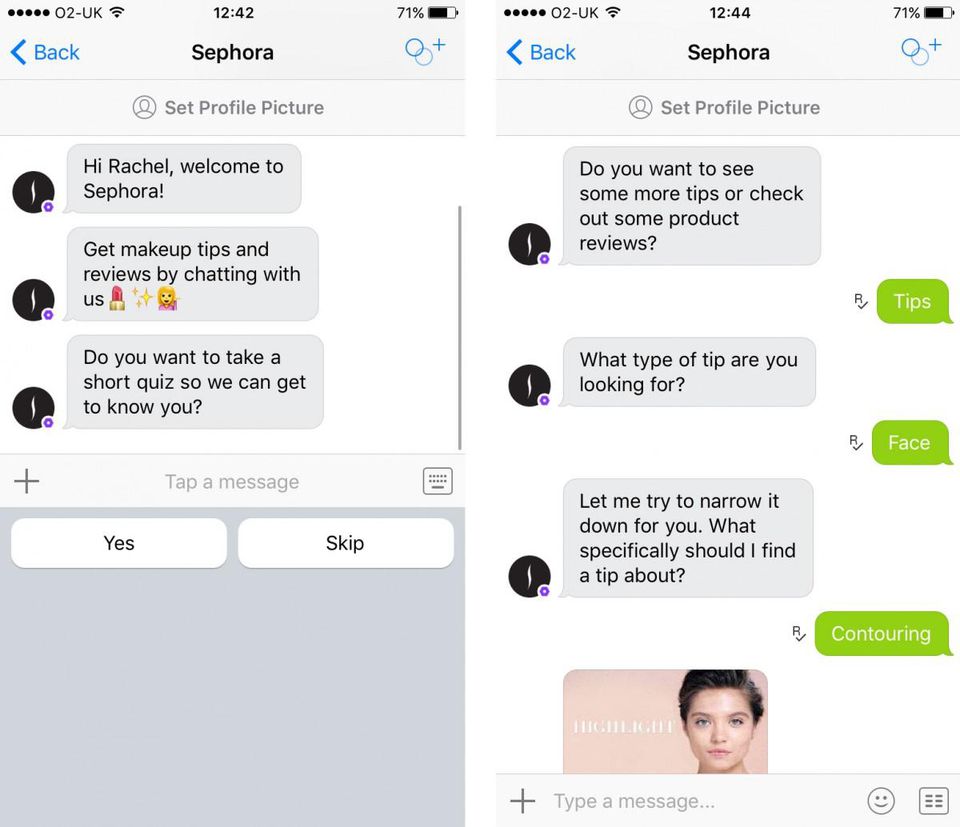 Sephora's chatbot, which acts as a virtual assistant to help you choose products. Source: Forbes
Chatbot as a new member of customer service
Until recently, brands that wanted to keep in touch with clients in social media used employees who communicated and answered questions. However, it often required the involvement of a large number of people who (especially in the case of large brand profiles) had to deal with it full-time - and this generated considerable costs. What's more, it often failed to provide smooth communication at any time of the day or night. No wonder that chatbots are becoming new members of the customer service department, and that their opportunities are built to communicate with users - at least at the basic level that requires an immediate response from the brand.
Thanks to this modern solution, the answers to users' questions, the purchase process or recommending new products take place automatically - which not only reduces the costs of operating on the Web but also positively influences the perception of the company - the brand is considered a pioneer in the implementation of modern solutions.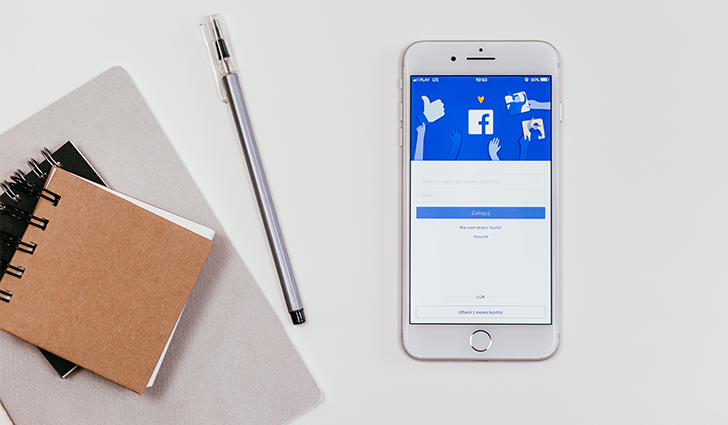 Top brands use chatbots
Chatbot is a solution that should be used by every major company that cares about innovative marketing. It is no wonder that many brands are already using its capabilities. Among them we can mention, the biggest players in the fashion industry, such as Burberry or Tommy Hilfiger. The bot is also used by the KIA brand and the Sephora drugstore chain, which uses the bot to present products and make-up tutorials. Noteworthy is also a chatbot created for the needs of the "Millionaire" profile - a popular game show in our country. This bot served mainly to entertain users, who enabled him to participate in his own game and answer questions. However, the bot also did not avoid marketing activities - before broadcasting the next episode of the program on TV, it reminded the player by sending a message in the conversation window. Effect? Messenger users sent 8.5 million messages to the bot!
Chatbots better than e-mail marketing?
Chatbot Facebook Messenger has another advantage, which is not mentioned very often. I am talking about much better effectiveness in conducting an advertising campaign than in the case of commonly used e-mail marketing. Nowadays, many users' mailboxes are flooded with spam, which causes many messages to land in the bin without opening them. Messenger is still a very "private" channel, which most of the application users do not associate (yet) with advertising campaigns, which translates into a very good conversion.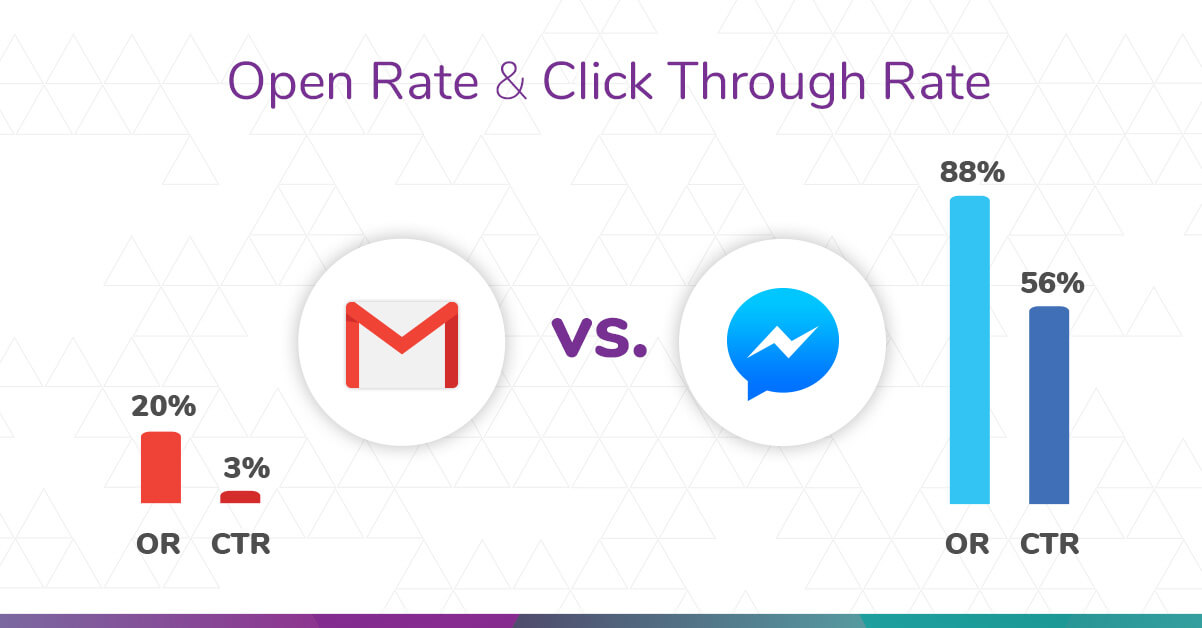 Comparison of e-mail marketing with the campaign on Facebook messenger. Data source: https://neilpatel.com/blog/open-rates-facebook-messenger
Percentage data from open and clickthrough campaigns carried out using the Messenger bot looks really good - it's up to 88% Open Rate and 56% CTR. Meanwhile, in the case of e-mail campaigns, the average is 20% of the Open Rate, and the CTR does not exceed a few percent.
The benefits of Facebook Messenger chatbot
Chatbot in Facebook messenger provides a variety of benefits. We can mention, among others, 24-hour contact with clients, which we can achieve without increasing the expenses for client service. This availability has a positive effect on the fans' loyalty and their opinion about the brand. What's more, the customer can contact the company not only at any time but also using any device and application that he uses every day. Thanks to this, brands that used chatbot in their activities can enjoy increased sales.
Facebook has been trying to use Messenger as the next sales channel for some time. This is good news for all who sell online. The more so that novelties, such as chatbots, are still a solution that is positively surprising to the customer, which is characterized by high efficiency. It is therefore worth seriously considering their use in sales and image-related activities.
Implement a chatbot in your company!