News
HighSolutions - world's #3 software development company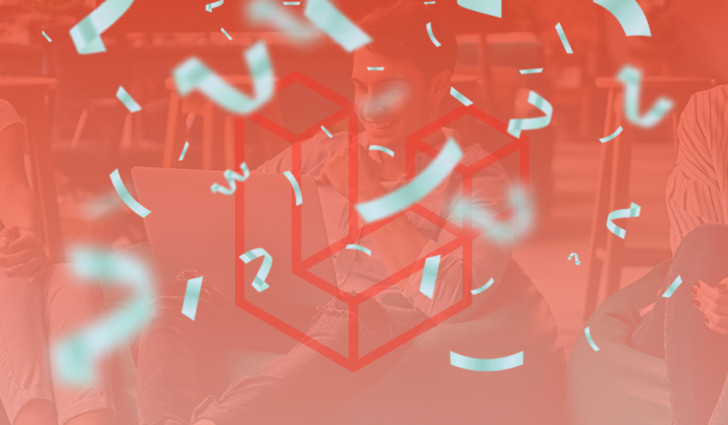 Ladies and gentlemen, a round of applause, please. Clutch.co rank never lies. For severeal weeks HighSolutions has been maintaining a position of the third company in the world which creates technological solutions for business in Laravel. Besides, we are real ambassadors of this framework in our country then it couldn't have been otherwise!
What does that really mean and how do we implement love for Laravel in programmers?
If we just overwhelmed you with too much information, don't worry, in a while everything will be explained. Excitement and joy is more than enough :)
3rd place in Clutch rank
We have been working together as a team to become the best Laravel sofware development company for 5 years. However, we have never thought when Clutch.co (B2B platform connecting IT companies with clients) search engine would point HighSolutions out as one of the best choices for those interested in IT services in terms of this specific framework.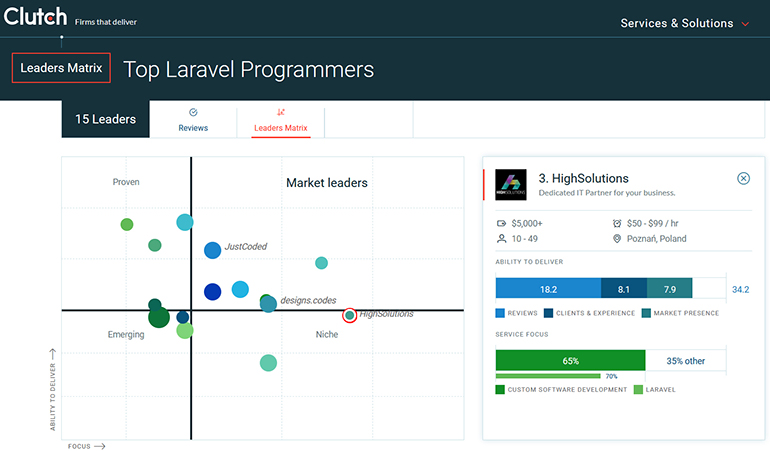 HighSolutions is a #3 company developing IT solutions in Laravel in the world according to the Clutch.co rank
High rates (5.0) and reviews written by our cutomers. These elements have an effect on our position in the ranking. Dear clients, we appreciate your trust :)

Is Laravel the best framework in the world?
Definitely, Laravel is the most popular.
There is no question that Laravel is #1 PHP framework in the world. But in Poland Laravel slowly surprasses Symfony.

Popularity PHP frameworks in Poland
Laravel and Symfony are fighting for the lead.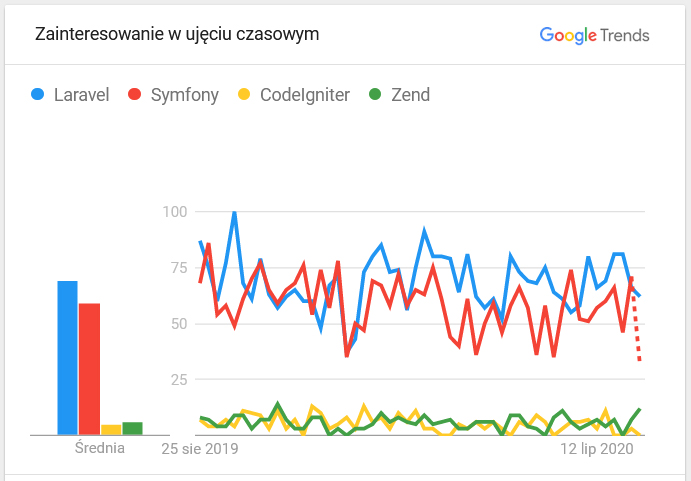 Google Trends
Popularity PHP frameworks in the world
Laravel leaves the competition (Symfony, CodeIgniter, Zenda) far behind.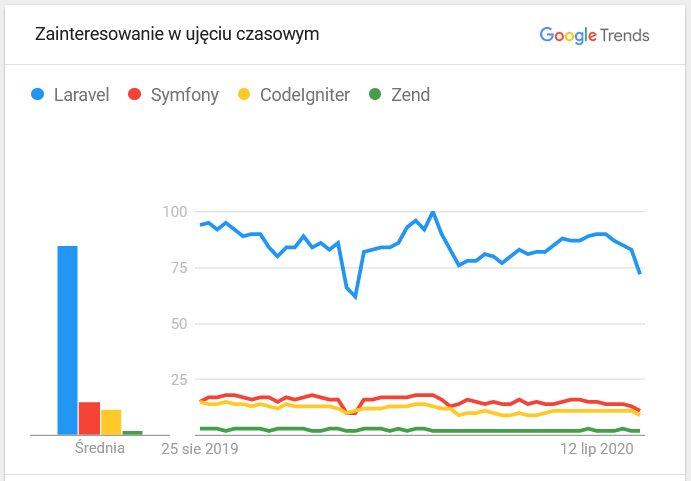 Google Trends
Under HSpotlight - we infect you to love Laravel
We can't hide facts that:
we have been specializing in Laravel for 5 years,
accounts for 70% of the code which we use in all our projects. The rest of the code are mostly Vue.js, Symfony and AngularJS.

Why we choose Laravel with no doubt?
Simplicity and intuitiveness + a huge popularity in the world means easy and unrestricted availability to documentation. (Worth checking source of knowledge about Laravel framework is Laracasts).
In another article you can read more about which PHP framework should you choose to start.

Programmers will still find more job offers related with Symfony framework, despite the fact that in Poland keyword search statistics related with Laravel (which I have indicated above) are high.
And we, in Poland, as several years old Laravel experts, try to infect programmers (and other people involved in the IT industry) with love to it.
How? We're promoting Laravel during meetups!
Laravel Poznan MeetUp
As HighSolutions, Laravel's golden boys and girls, we educate specialists and share our knowledge since 2018. We are initiators and co-creators of the Laravel Poznan MeetUp - the only meetup promoting Laravel framework in Poland.
In the last 2 years we have organized 14 meetings for specialists. Our meetups consist of 2-3 technical lectures where we, partners of our events (like TRUI SH) and our guests share their knowledge or solve programming problems while coding (Live Coding rulezzz). Of course, during the lecture participants can ask questions (by the sli.do app).
During the lecture it is important to listen actively and pay attention - there are prizes waiting for the participants of the QUIZIZZ competition.
So far, meetups have been organized in Plus One (coworking centre in Poznań), but we are about to prepare the next edition - this time... online - on 5th October!

Where you can find our Laravel Poznań Meetups' slides and lectures?
Speed up web API with Laravel and Swoole using Docker, Laravel 6.0 - what is new?, How we created kudos system in Laravel and Slack? - that was the last lectures during our meetups. Wondering where can you see them?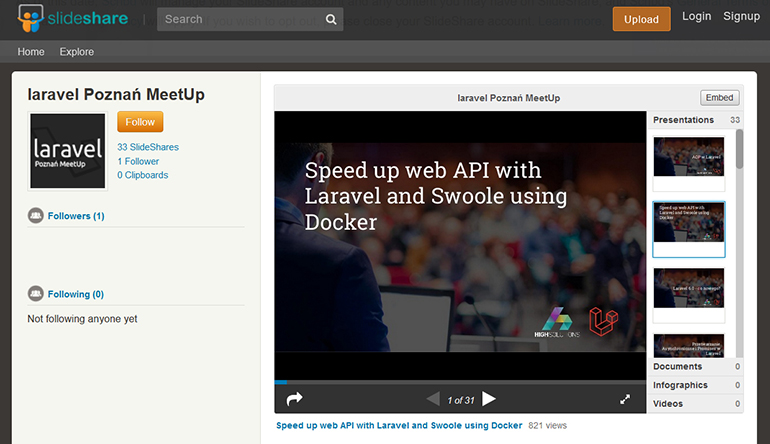 Presentations on SlideShare - Laravel Poznań MeetUp
GitHub - programmers' spell book
Our programmers share our code and open source repositories on GitHub. One of the repositories is the HighKudos project which you can use as a communication tool in your Slack workspace.
Adam Matysiak, our CEO, showed how to implement this system on Slack during #10 Laravel Poznań MeetUp.
Are you interested? You can find that video from the event on the Laravel Poznan Meetup fanpage (minutes 13:41-34.30).

Every package on the GitHub is created by a software house in love with Laravel
Summary
Despite a great joy of "Top #3 on Clutch" we don't rest on our laurels. We continue to work intensively and with commitment on projects for our clients. We will continue to work on activities to promote Laravel framework in Poland. And don't forget about the Laravel Poznan Meetup online. See you on October 5th!
A lot of information about Laravel is in the article, but maybe you want to know more about how we develop software at HighSolutions?


Download our free ebook about digital transformation.