Business
Nearshoring IT - 5 main benefits that affect your business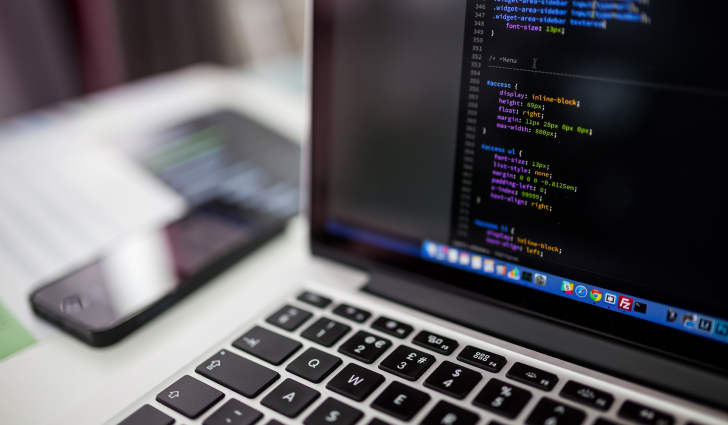 Companies are constantly looking for a way to help them outperform their competitors. Or just to keep pace with them. The latest trend is nearshoring, which is gaining more and more popularity in the IT services market as one of the outsourcing models. And it does not matter.
Nearshoring, including the keyword "nearby", combines the benefits of other models, such as onshoring or offshoring, and at the same time minimizes the risk of problems resulting from them, like the high cost of onshoring, communication barriers, and time zones in offshoring. What are the main advantages of nearshoring?
What is nearshoring?
Nearshoring is the act of outsourcing business and design processes to a country close to yours - in a different geographic location, in the same or a similar time zone, on the same continent.
The "nearby" area is not only the distance itself but also the proximity of shared values, cultural features, business, and legal culture. It affects maintaining a qualitative level of communication, similar to on-site cooperation, without adapting to a different culture.
Distance is the crucial factor that influences the choice of cooperation in this model and, subsequently, the success factor of the project. Many companies located in Western European countries (Denmark, the Netherlands, or Norway) outsource development to IT companies from Central and Eastern Europe. Why? Because of the distance.
For instance, the Netherland enterprise outsources processes to Poland because it is one of the main nearshore development centers. And also, a company from the USA or Canada moves business processes to countries in South America.
Even though we can observe an increasing number of companies that choose to work 100% remotely, there are still companies for which meetings in the real world are also meaningful. The length of the distance affects the travel organization costs and the regularity of offline meetings in the office in situations requiring the discussion of important business issues or meetings that will help the outside team understand the goals they want to achieve.
Poland is located at the heart of Europe
If you want to meet your IT partner personally, a flight from many Western European countries will take up to 2.5 hours.

Examples: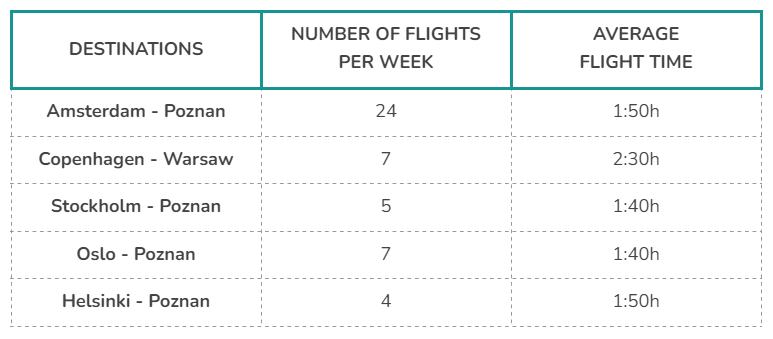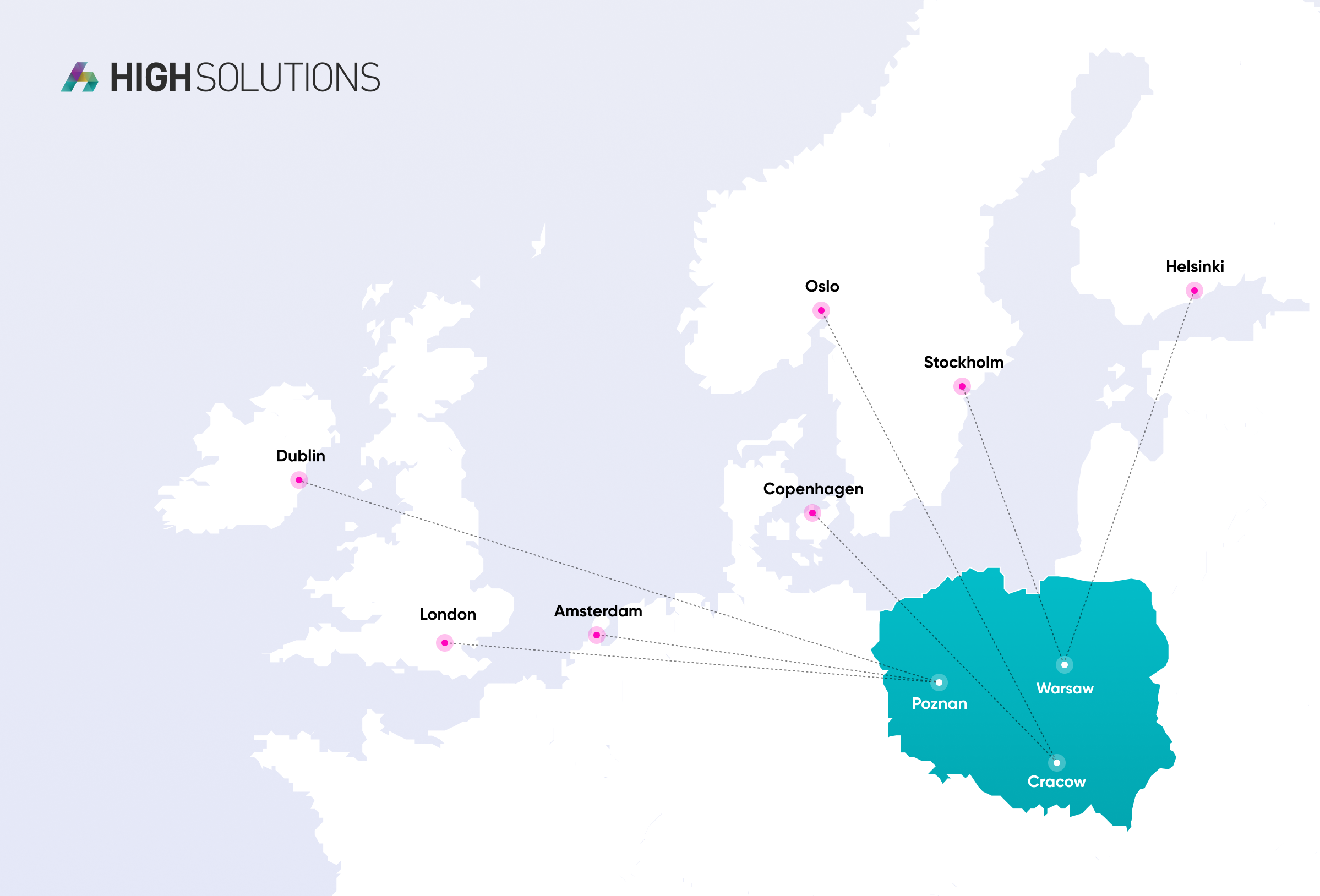 Nearshoring is a new quality of outsourcing
Nearshoring makes the possibility of outsourcing processes that the company cannot carry on using internal resources and allows expanding the team regardless of geographic constraints.
Nearshoring is a perfect alternative to the opposite offshoring. Offshoring transfers processes to distant parts of the world, to other continents. Undoubtedly, the choice of offshoring enables the cost reduction of the project. However, it also carries a risk for the company. For example, it is an obstacle to effectively managing projects due to different time zones, differences in culture, habits, and communication. That is why nearshoring is gaining more and more popularity in European countries.
What are the benefits of nearshoring?
1. Nearshoring is not only a geographical proximity
The first and most important advantage of outsourcing services in this model is proximity in terms of location, shared values, business, and legal culture. If we agree that proximity is a determining factor and you can hire experts in your country, then why should you choose software development or team extension services from foreign IT companies?
2. Nearshoring is the reduction of project risk and process control
Nearshore software development services or team extensions significantly reduce the risk of project problems. Cooperate with a nearshore partner who can effectively manage risk and take action before any potential complications arise. That is crucial to the success of your project. Do you have a problem your in-house team cannot solve? A nearshore partner will do it using knowledge and experience, looking at the problem from a broad perspective and helping you (and your project) get back on track.
3. Nearshoring means lowering labor and employment costs
Nearshoring is increasingly replacing the process of building your development team and provides greater scalability. Nearshoring lowers the costs of recruitment, employment, and onboarding, which are systematically increasing due to the shortage of experienced developers in Western Europe. That is why nearshoring is the perfect answer to the increased needs in the project, which allows you to reduce the costs related to the expansion of your team.
It is also worth mentioning that the reduction in the external team is much cheaper than maintaining contracts with employees from your own country for several months with less demand or downtime in the project.
4. Nearshoring is access to IT experts in a global skill gap
Nearshoring is a solution that can reduce the global talent shortage in the software development market. Does your company need a specific set of skills and competencies that developers available on the market in your country do not have? Nearshoring can open you access to experts in their fields. Poland has a phenomenal talent base of software development staff (the proof is their 3rd place in the Hackerrank ranking).
Polish programmers:
high skilled in technology with valuable experience you need,
problem-solvers in a short amount of time,
fluent in English
sharing your time zone and work culture.
As members of your nearshoring team will deliver high-quality, scalable, and future-proof digital products to help you outperform your competition.
5. Nearshoring saves time and starts projects quickly
You've been looking for specialists with specific skills for months. Time-consuming and recruitment low efficiency to select talents from the domestic market extend the time of starting or delivering your project and slowly drives you crazy. Nearshoring allows experienced developers (who meet your requirements) to start working quicker on your project by skipping the long recruitment and onboarding process. Nearshoring is a way to avoid unnecessary downtime and implement your project while maintaining a European level of quality.
Take advantage of nearshoring, hire Laravel developers and power your business's potential
In nearshoring, you will find great flexibility in scale up (or scale down) regardless of the size of your company or startup. Nearshoring may be a good opportunity to enlarge your remote team without the long recruitment process in your domestic market. It makes a difference if you want to focus on boosting your company's growth instead of searching for IT experts.
HighSolutions provides reliable and experienced Laravel developers teams who will share your values, organizational culture, and time zone.
Cooperate with developers highly specialized in the technologies you need now. Hire specialists who will deliver technological agility and scalability and add innovations to accelerate the development of your project.