UX/PM
What's in the head of a Project Manager - and what does it take to successfully manage projects?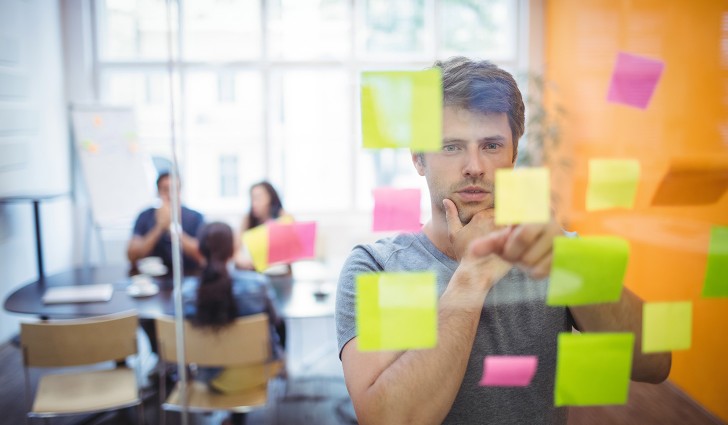 One cannot receive a certificate in patience or listening. We get only a single chance at first impressions. This concerns both client and the team. We can learn many things but whether we posses "that thing" is hard-wired into our personality.
A good, i.e. effective, Project Manager is a person who most essentially has a well-balanced set of specific hard and soft skills. These are essential to achieve professional goals and find satisfaction in one's work. But let's start from the beginning...
Methodology
Choice of the method of managing a project is related to the type and scope of its implementation as well as the team's characteristics. Each method serves the purpose of achieving different goals in different ways. Currently, two main approaches to project management are used. These are the traditional approach (the sequential Waterfall model) and the agile approach.
Waterfall Methodology - consists of executing primary activities as separate project stages, organised in a steady linear manner. Each activity constitutes a subsequent step. In other words, we move sequentially from one separate stage to another. If the results of a certain stage are unsatisfactory, cascade iteration are organised which aim at developing the desired results. Traditional methodologies include, for example, PRINCE2 method.
Agile approach - views project as a collection of small tasks where the order of execution (sometimes also the scope) is subject to change (preferably, it corresponds to the client's needs). Agile includes numerous flexible ways of managing work which require strong cooperation with the client. Using this approach guarantees completion of the project within the pre-established budget and delivery of the products of desired quality which meet the needs of both the enterprise and the users. Agile methodology includes, for example, Extreme Programming, Lean, and Scrum methods.
When you decide on one of the methods, make sure to use software and tools which aid your team in an effective execution of their tasks, and enable you to oversee and coordinate the course of the project's realisation in accordance with the set goals.
Tool and platforms
The market is abundant in programs and applications well-suited to managing projects. Choosing one depends mostly on the individual preferences of the Project Manager.
InVision – a platform used for communication with client during the graphic design stage. Enables project presentation where client can use pins to comment on specific elements. Switching from e-mail to InVision allows for maintaining order and clarity in communication and receiving constructive feedback.
Slack – instant messenger which facilitates easier communication with individual people, group conversation and transfer of file. Each project can have its own channel. This allows for all the conversations related to the project to be in one place where they can be accessed by everyone involved.
Asana – a platform used for project management which includes the planning stage (establishing project stages, tasks, priorities, team members), coordination of work (insight into project progress and current activity of each team member), and finalisation of the project (verification of appropriate execution of tasks). Asana enables client's involvement in the project's realisation process and assignment of tasks which determine deadlines (e.g. sending information necessary for further work).
The software mentioned above constitutes only several basic tools. There are numerous alternative options on the market. It is best to test some of them and choose individually what we like most.
Skills
As I mentioned before, no one issues certificates of patience or effective listening. We can try to develop through time planning courses, creativity trainings, or discover new ways of managing stress, but whether it works or not is another story. Fortunately, soft skills is not everything. There is a set of hard skills which are possible, and rather necessary to acquire.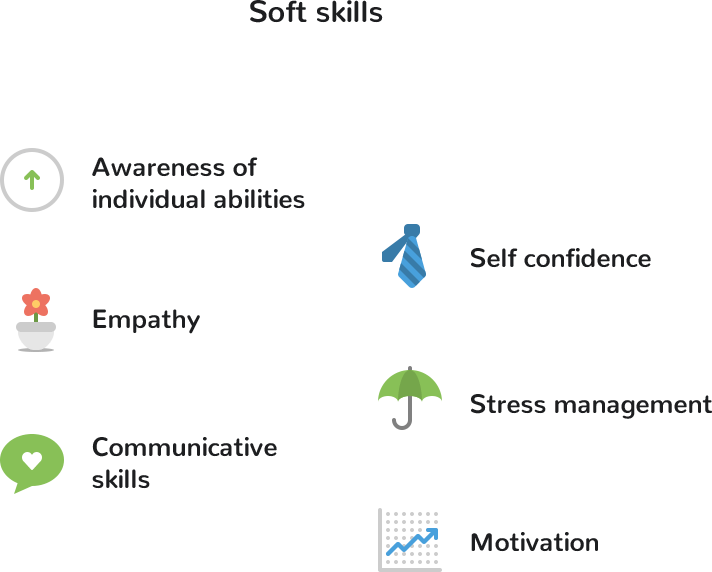 Soft skills are our innate character traits.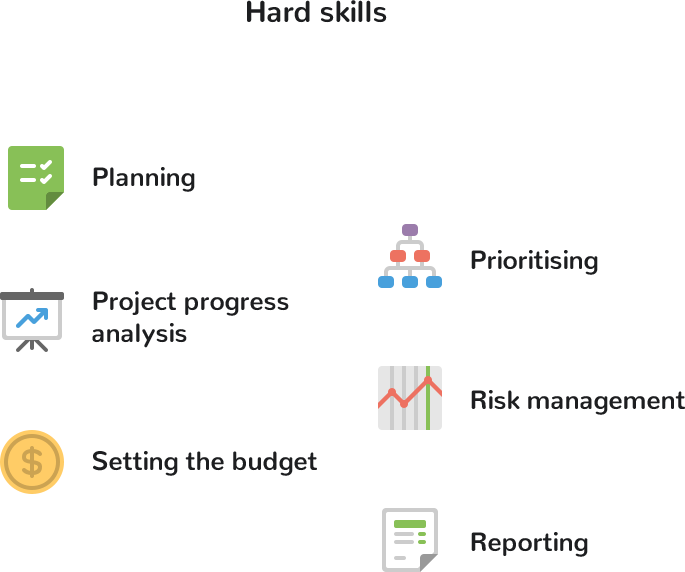 Hard skills we can constantly improve and develop our workshop

Wat's in the head of a Project Manager?

Primarily, goal-orientation, the need for self-realisation and personal development. When working with a team, one must remember that humans are emotional creatures. This often makes team management a complicated endeavour. Project Manager has to be flexible. Empathy and the will to understand team's needs while ensuring excellent communication with the client and project coordination in accordance with set goals constitute the key to success. A project manager who has the inherent ability to adjust to their environment will achieve a greater success in terms of team relations, which will then translate into successful fulfilment of the project goals and client's satisfaction.